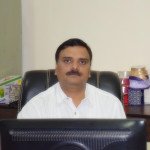 Mr. Manoj Dnyanmothe
Founder & Promoter
The company is led by Founder and Promoter Mr. Manoj Dnyanmothe.
His wide experience and leadership skills and visionary thoughts have made Omkar as one of the leading name in the decorative industry.
Mrs. Deepali Dnyanmothe
Creative Head
Mrs. Deepali Dnyanmothe looks after the entire creative department and ensures new designs are always brought in market at regular intervals. They are ably supported by a talented team across the company and it ensures that the clients are always served with the best quality and services.